Melia Studios located at Agii Apostoli, Kato Daratso area. 4 km away of Chania city centre to the west on the road Chania – Platanias – Kissamos.
Some information on how to find us: Driving out from Chania to Pllatanias, Kissamos at 4 km from city center turn right from traffic lights to nearby Nearxou str. and then 400 meter on the rights is located Melia Studios.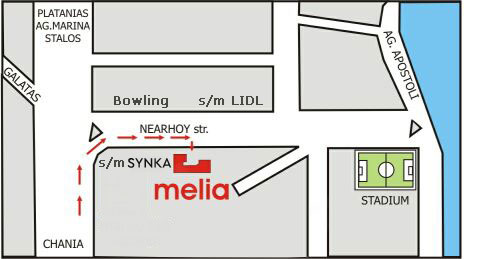 How to get to Melia Stuios
Airplane
Olympic Airlines
URL: www.olympic-airways.com
Reservations: +30-210-966 6666
RYANAIR
URL: https://www.ryanair.com/gr/el/
ELLINAIR
Aegean Airlines
URL: www.aegeanair.gr
Reservations: +30-210-6261000
Ships
ANEK Lines
URL: www.anek.gr
Reservations: +30-210-4197410 (Athens Office), +30-28210-27500 (Chania Office)
MINOAN Lines
URL: https://www.minoan.gr/kriti
Reservations: +30 2810399899
Bus Services for Greece (between counties all over the country)
KTEL (Regular Bus Service)
URL: www.ktel.org
Bus Services for Crete in particular
KTEL (Regular Bus Service for Crete)
Chania Information: +30-28210-93306
URL: www.bus-service-crete-ktel.com
Local Bus (Intercity and Suburbs Routes)
The bus station to Melia Studios is at city center of Chania on the "Square 1866".
Taxi
"KYDON" Radiotaxi +30-28210-87700
"HERMES" Radiotaxi Union +30-28210-98700
 Beach Photos of Agii Apostoloi!